Windows 8 no longer allows Virtual PC 2007 to be installed. Attempts to install Virtual PC 2007 will bring up the Program Compatibility Assistant saying This program has compatibility issues which prevent installation. Virtual PC 2007 has been removed because Windows 8 now comes with its own inbuilt virtualisation software Hyper-V. However this requires your CPU to support SLAT, which many older processors do not.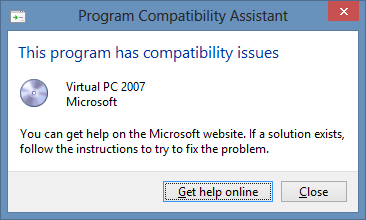 To install Virtual PC 2007 you can disable the Program Compatibility Assistant. To do this you need open the Group Policy Editor.
Press Win + R and then enter "gpedit.msc"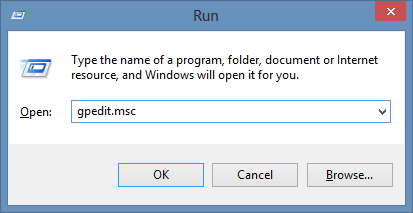 The two options to enable are found here:
Computer Configuration -> Administrative Templates -> Windows Components -> Application Compatibility
You need to enable both Application Compatibility Engine and Program Compatibility Assistant.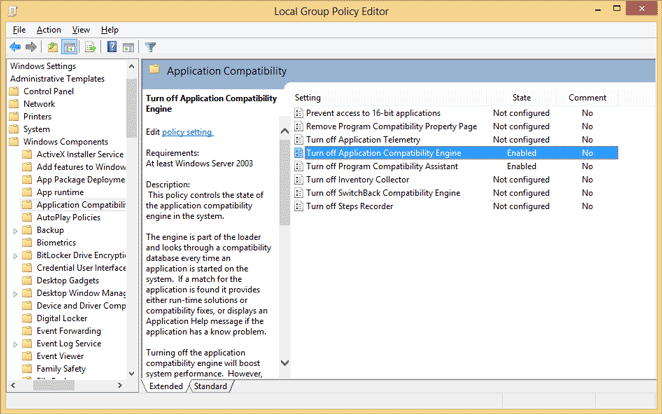 You then need to Reboot your machine for the change to take affect.
Last step, simple involves renaming the setup file you downloaded. e.g. change setup.exe to setup2.exe.
Now when you go to install Virtual PC you will bypass the Compatibility restriction. (Although I would recommend after installation restoring the Program Compatibility Assistant)
Below is a screenshot showing Virtual PC running on my Windows 8 test machine.